Welcome!
EVENTS
Sunday 12 May: Church Anniversary followed by Anniversary Picnic (see Newsletter for details)
Sunday 12 to Saturday 18 May: Christian Aid Week
Sunday 19 May: Castle Hill Church is a Dementia Friendly Church and this will be the focus of the morning service as part of Dementia Action Week
12-18th May Christian Aid Week Sunday 19 May – Service focussing on Dementia at the start of Dementia Action Week (Castle Hill Church is a Dementia-Friendly Church)
Castle Hill United Reformed Church, Ipswich is a modern, lively church located in the centre of Castle Hill, Henley Rise and on the doorstep of Whitton. The church was established in 1957 and its unique "tent-like" design and concrete construction is classified as Grade 2 listed.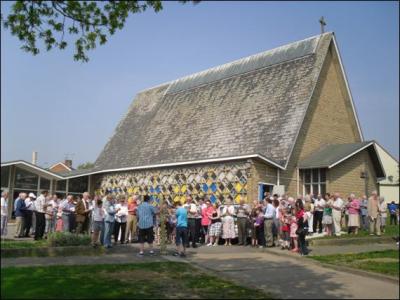 Castle Hill Church is part of the United Reformed Church. It is an active church with room for up to 150 people to attend the regular Sunday family worship, as well as a Sunday Club for children.
The church is part of the Ipswich and East Pastorate comprising Castle Hill, Felixstowe, Saxmundham and St. John's United Reformed Churches and has an active twinship with a church in Mussbach, Germany that results in annual exchange visits for family and youth groups.
Please take time to browse our website and if you would like to visit us for one of our services you can be assured of a warm welcome. There are no strangers at Castle Hill - only friends.
Family Worship is held every Sunday at 10.30 am. Please see the Services page for additional times.