Events
Christmas 2019
The Christmas Story
Lunch Club Christmas Meal
Tiny Tots Christmas Party
Ipswich and East Pastorate Away day at Otley Hall: a time of fellowship, worship, reflection and learning
Twenty two people from Castle Hill, St Johns and Saxmundham gathered at Otley Hall for an enjoyable Away Day. Led by the Rev Janet Tollington who led us on a journey through the Old Testament. Janet was so informative and thought-provoking and her delivery was excellent and easy to listen to. We also had time to relax and to chat together and as the sun shone for us we were able to stroll in the Otley Hall grounds. Many thanks to those who organised the day and invited Janet to speak.
Girls' Brigade at Summer 2019
Our 2019 camp was at Hallowtree Activity Centre where we enjoyed lots of activities - Go Karting, Two Tyre Ravine, Crate Stacking, Archery, Gymnastics Centre and a campfire where we baked bread and toasted marshmallows! We were very lucky with the sunny weather and also to be joined by Pam who led our devotions for the camp and we had a visit from David on the Friday. We are very grateful to Ros for coming along and for all the hard work she has put into planning, designing and making a new banner for Girls' Brigade.
Please see our noticeboard in the sports hall for lots more photos!
Holiday at Home "Greek Islands" - Wednesday 31 July to Friday 2 August 2019
Charities Barbecue Fellowship in the Rain - July 2019
Yes it rained! After a period of dry weather the rain arrived just as the barbecues were lit but everyone remained mostly dry thanks to the loan of the marquee by Orwell Probus Club and the three gazebos provided by Mark, Ian and Len. Not forgetting Anita and Michael's summer house. As with all Church social activities there was plenty of laughter and a strong feeling of fellowship. Our thanks go firstly to Anita and Michael for once again allowing us to hold the event in their lovely garden and for their tolerance of the number of wet feet tramping across their kitchen. Also to those who once again provided the tasty selection of food, Vanessa for the Tombola, the tent erection team, our three gourmet barbecue chefs Darren, Mike and Mark and finally to all who turned out and supported the event on such a wet afternoon. The event raised £225 for our Charites; Ipswich Winter Night Shelter and 4YP.
Visit to our Mussbach Friends - May 2019
| | |
| --- | --- |
| | |
| Pulling Together In A Roman Galley | Daily devotions outside Rastatt Palace |
Girls' Brigade Sporting Success
At the Girls' Brigade District Sports competition, our girls were winners of the Senior section and our Company came second overall. Congratulations!
Good Friday Walk - 19 April 2019
Streetwise Holiday Club - 10 to 12 April 2019
Zacchaeus called down from a tree by Jesus, the Paralysed Man lowered by his friends through the roof of a house to be healed by Jesus and the road to Emmaus, told as part of the good news of the Easter story. All of these were learnt by the children at Holiday Club and reinforced with wonderful craft work. And of course, there was much laughter and games including the ever-popular parachute. It was so good to see so many of the children return to Church with their families on Palm Sunday.
February 2019: CHAPS Pantomime - Peter Pan
Young people played a major part in making this year's CHAPS panto a resounding success. It provided an opportunity for them to showcase their talents in song, dance and speaking parts. Of course, the older favourites were still there both on stage and behind the scenes.
Truly a family occasion, not just for the hundreds of people who came to watch 'Peter Pan' but also for the cast. Several Church families took part in a production that was 'amateur' in name only - it was up to professional standard.
Induction of Revd David Rees - Saturday 29 September 2018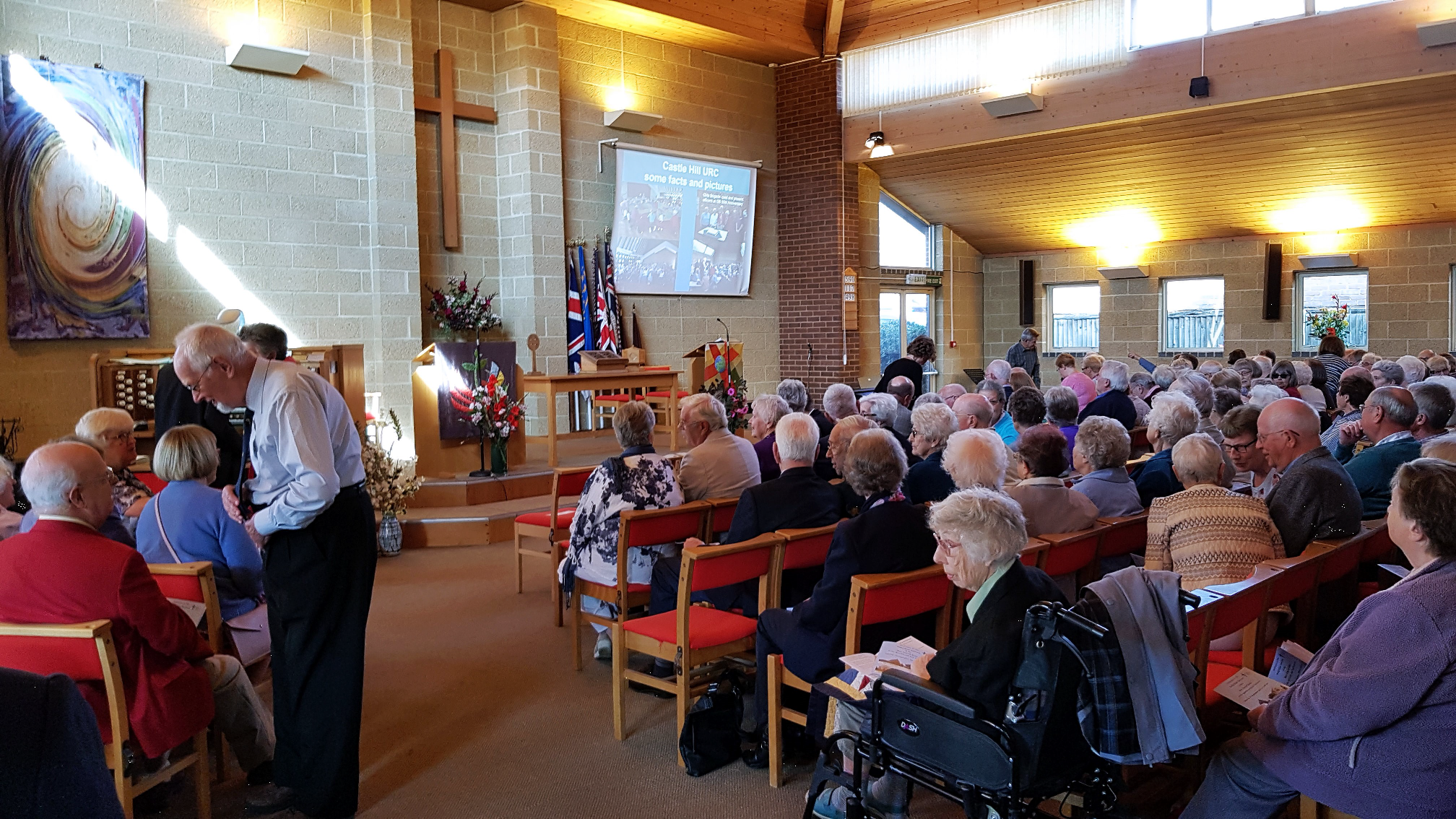 The service was held at St John's URC and was a wonderful opportunity for members of the four Churches to chat together and meet David
Pam's Farewell
Farewell Tea
Tiny Tots
On 19 October the Tiny Tots held a party to thank Pam for all the love and support that she has given to the group during her time at Castle Hill but it was a party tinged with sadness as we were saying goodbye! Ann Watson made a beautiful cake, which we shared along with other party food. We presented Pam with a voucher and a pair of little earrings called "Go Fly A Kite" (they are kite shaped!) which we thought just perfect from our group. Our craft activity was making kites and one of the children made one especially for Pam to remember us by.
Harvest Weekend: Harvest Festival and Scarecrow and Flower Festival With Art exhibition - 30 September and 1 October 2017
Thank you to all the Church organisations and individuals who entered into the spirit of our Scarecrow, Flower and Art Festival by producing such professional displays. We have so much talent within our Church community!
60th Anniversary Celebrations - 15 to 18 June 2017
Over the weekend of the 15 to 18 June, as part of our 60th Anniversary Celebrations we were privileged to host members of the Gospel Choir "Christcendo" from our twinned Church in Mussbach. After arriving in the UK on the Thursday they visited Windsor before meeting their hosts in the evening. Friday was spent in Cambridge finishing with a visit to King's College for Evensong. Saturday was spent with the hosts and they then joined us for Strawberry Tea in the afternoon. There then followed a wonderful and inspiring Concert of their music. Sunday the Choir joined us for morning worship and after a lunch at the Church they returned to Germany. Many thanks to all the hosts, Mussbach Committee and helpers in the kitchen for making this all possible.
60th Anniversary Celebrations - 7 May 2017
On Sunday 7 May we had a happy day of thanksgiving for Life and Worship for 60 years at the Church. Thank you to everyone who took part in any way; the lovely service led by Pam with input by Arnd and sermon by Richard Mortimer, the food, the memorabilia and the quizzes (some of the baby photos wouldn't be recognised by their own mothers!). Pam spoke about all being members of one body, and it certainly felt like that.
Castle Hill 60th Anniversary Celebrations: Reunion of 20th Ipswich Boys' Brigade - 1 April 2017
Over 75 people gathered to chat, look at various forms of memorabilia, eat and generally enjoy seeing so many 'lads' from the past.
As one old boy wrote after the event:
Thank you for your efforts and thorough planning yesterday. I thought that the event and the different ways to interact (quiz, photos, memorabilia, rogues gallery) were brilliant and memories really flooded back.
However, those things alone weren't it alone: it was the spirit of the BB which I felt underpinned it all - "Sure and Steadfast" - the teachings from scripture (hope, forgiveness, peace, kindness, self-control, respect) which tend towards Christian manliness, and the challenge to all to follow Christ's example.