Events
Christmas 2018
| | | |
| --- | --- | --- |
| | | |
| Christmas Fair | Lunch Club Christmas Meal | Christmas Midnight Service |
Girls' Brigade Rededication Service - Tuesday 13 November 2018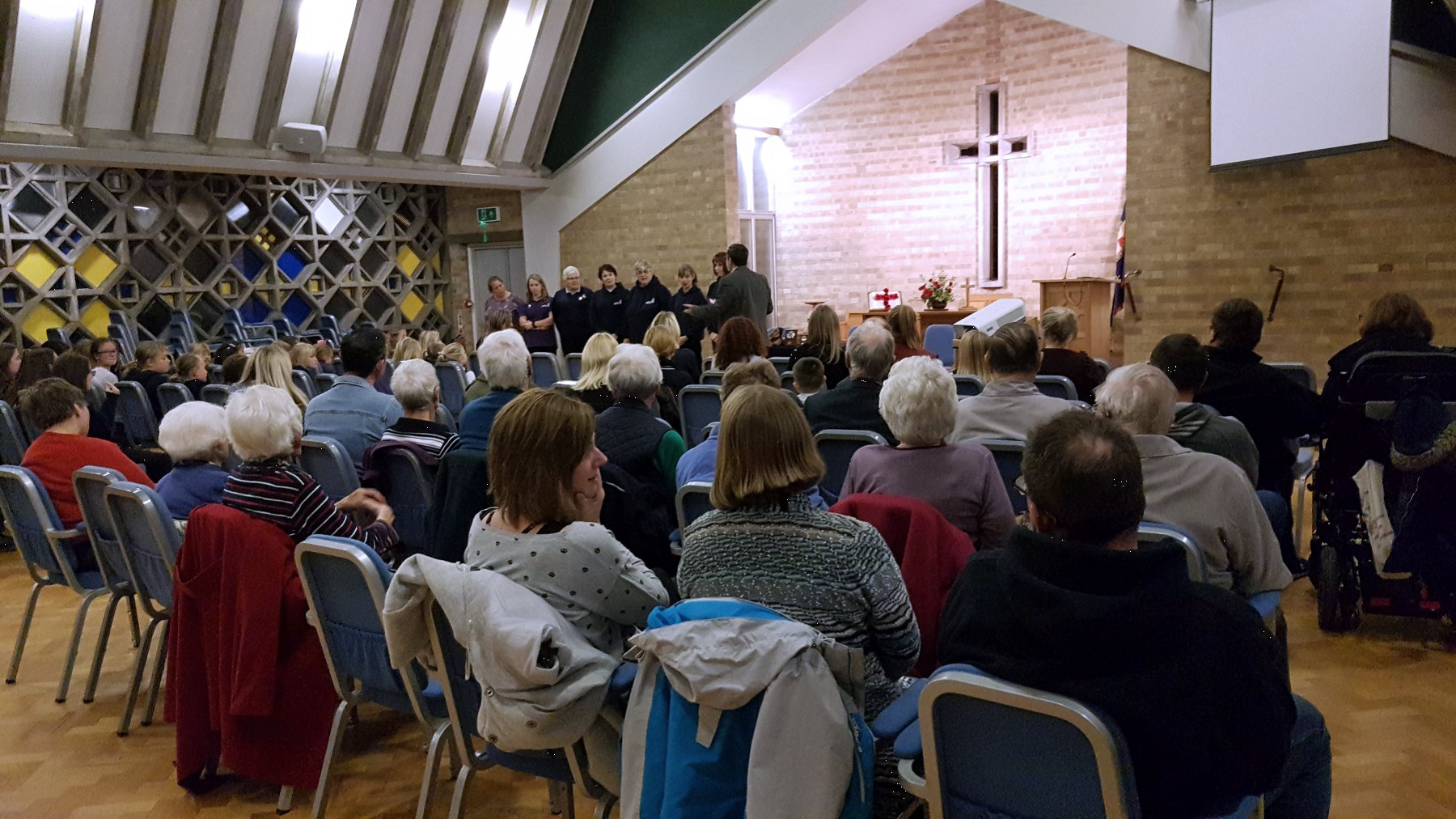 There was a good attendance at the Girls' Brigade Rededication Service in November
Induction of Revd David Rees - Saturday 29 September 2018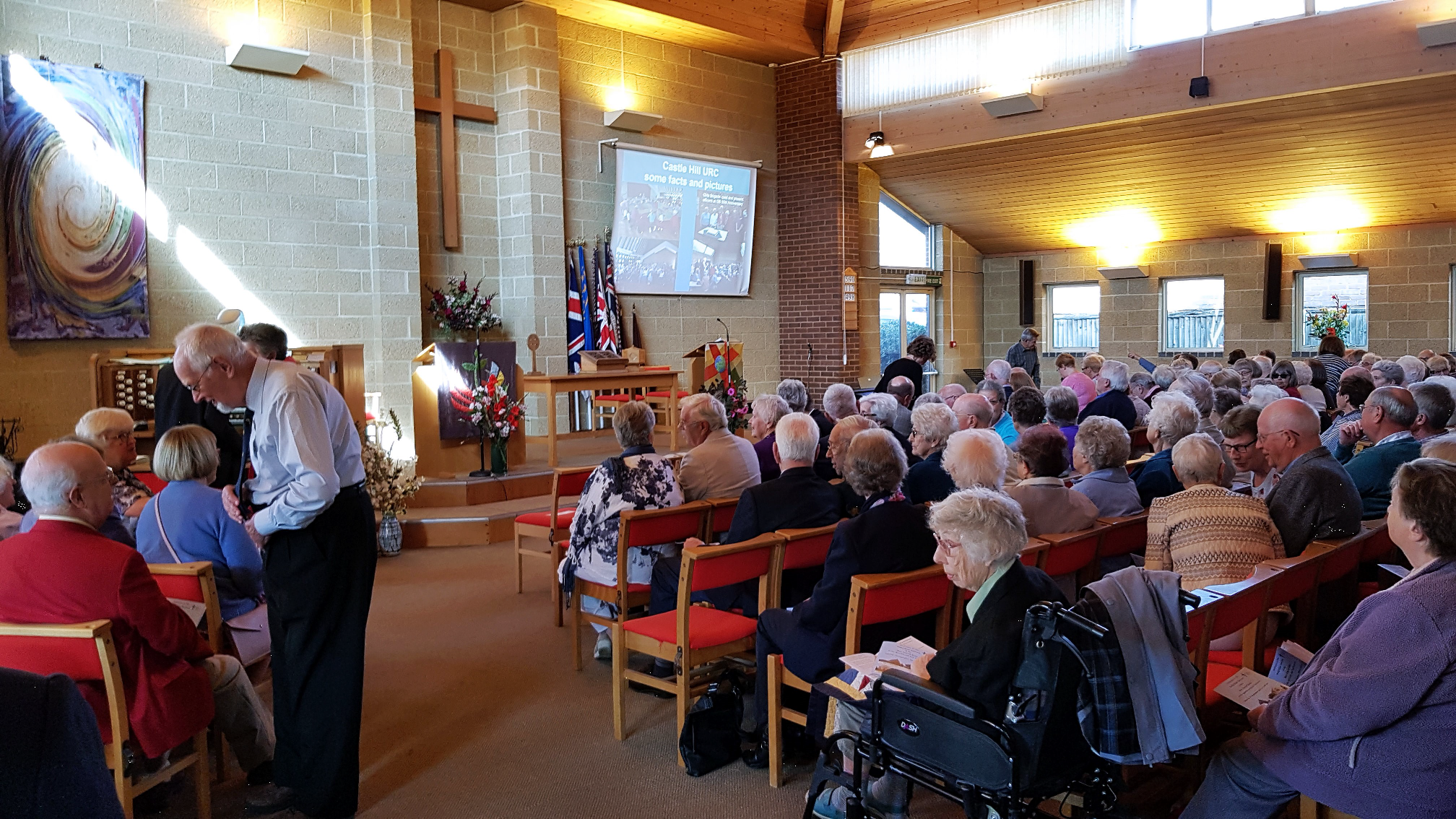 The service was held at St John's URC and was a wonderful opportunity for members of the four Churches to chat together and meet David
Girls' Brigade at Camp August 2018
Camp is always a time of year that we look forward to. This year didn't fail to be as lovely and enjoyable as ever. We headed down to Southend for the Bank Holiday weekend, where we unpacked and our dear friend Pam joined us. After lunch we took a walk down to the beach and in true British summer style the weather had us ladies huddled on the wall under blankets but that didn't stop the girls having a great time paddling in the sea. The weather was much brighter the next day and we all enjoyed Adventure Island theme park. After the Church service we went swimming and all the girls participated in games and crafts. Sadly the weekend came to an end and we ended the camp on a treasure hunt around the area. Girls' Brigade camp will always fill us with amazing friends, love and laughter… here is to next year!
MEGAN
Holiday at Home August 2018
One glance at all the thank you cards on display in the vestibule shows what this year's event meant to our 40 guests. The three days of activity, entertainment and companionship included a coach trip to the sea. It was hot, (very hot for the catering staff preparing cooked meals in the kitchen) but both guests and helpers had a wonderful time. The organising committee would like to give their sincere thanks to every helper who gave up their time to ensure that our valued guests were well cared for. To our guests we thank you also. What a wonderful crowd you were! We are never short of helpers each year because they too have a lot of fun. Almost every helper is a member of Castle Hill Church and they volunteer as a demonstration of their love for Jesus Christ and of their love for our guests. This year the theme was Italy, so where to next year?
Charities Barbecue June 2018
Girls' Brigade Success
The Girls Brigade recently came runners up in a District Sports competition and joint first place in a craft competition based around the Royal Wedding. The Explorers made crowns, the Juniors designed a party venue, the Seniors created a model of the wedding cake and the Brigaders designed a wedding dress.
Visit from our Mussbach Friends
Bank Holiday Monday 28 May 2018 saw the arrival of our friends from Germany. Two couples had driven to England prior to this to incorporate a few days on the south coast of England before making their way to Ipswich; however most of the group flew from Baden Baden. Unfortunately, they experienced a delay in taking off at the airport and arrived over four hours later than expected but nonetheless were very happy to meet up with their hosts once again.
On Tuesday morning we had a walk around historical Lavenham and enjoyed seeing all the quaint old buildings. After a free afternoon we all met at church for our welcome evening which included a delicious supper of various pâtés and cheeses. Supper was followed by worship during which Rachel Harris gave a most in-depth and moving presentation of the work that she and the team of the Friends of North Kigezi Diocese are doing in Uganda. It was wonderful to see how God's love is reflected through them and the difference that they make to the lives of the people, especially to the children of Bucence and surrounding villages. Through the wonders of technology, we saw on screen the FNKD team in Uganda singing for us and we were able to join in and worship with them!
On Wednesday we met at the church bright and early, eagerly awaiting our coach to take us to Eltham Palace and Gardens in Greenwich. This English Heritage property is so called because of its unique marriage of a medieval and Tudor palace and a 1930's millionaire's mansion. After centuries of neglect Eltham was leased to Stephen and Virginia Courtauld in 1933, who built an up to date, no expense spared, Art Deco design house incorporating the Great Hall which was part of the original building. The house is open to the public and displays much of the original furnishings of the Courtauld residency. It was very interesting to view the house and its opulence and stroll through the well-manicured gardens. The journey home took longer than anticipated due to traffic congestion. However, our meal was waiting for us at the Ipswich Sports Club on Henley Road, where the chef did us proud by providing a superb carvery meal which was thoroughly enjoyed by all!
Our free day was Thursday and host families entertained their guests. The weather was glorious - some went to the beach, others visited gardens and we went to the Suffolk Show. The evening was an ideal time for groups of host families and their guests to meet up and chat over a nice glass of wine.
Friday was our seaside day and having boarded the coach at the church we headed off to Southwold. We firstly stopped off at the harbour where we were free to explore. It was a delight to watch families of children crabbing, or the dedicated seamen tend their boats or even just taste cockles for the first time! For those that wanted to do more in Southwold, our coach driver took us to the coach park next to the Pier where we were more central to visit the shops, the lighthouse, or the brewery! Many of us dozed on the way home after a happy busy day.
Saturday morning saw a change in the weather as it was very overcast and dismal – but that didn't dampen our spirits as we all met up in the Castle Car Park in Framlingham before exploring the famous historical Castle and seeing the panoramic views from the ramparts. After a relaxing free afternoon we all met up again at the church for a fun social evening which commenced with a splendid meal of cold meats, salads and a selection of amazing desserts. Enormous thanks must go to Heather and her catering team for organising and preparing such a grand feast for us all! The evening continued with our guests entertaining us by performing a fairy tale playlet which had us all rocking in our seats with laughter. It was so funny, I don't think we shall ever see Arnd Schnorr in the same light again – think forests and wild boar!! The entertainment concluded with wonderful singing from our Mussbach friends and us all joining together to sing the special Partnership hymn which was written by a former member of the Group, Tony Wright. All too soon it was time to say our goodbyes as our friends were leaving the next morning to go to Stansted to catch their flight home. We all look forward to meeting again next year, in Mussbach, at the invitation of our dear partnership friends. The fun, friendship and fellowship, in God's name, will continue.
Tiny Tots Celebrate the Royal Wedding
Tiny Tots celebrated the Royal Wedding by holding a very special wedding party. The children were invited to come as princes and princesses, they made gold crowns or flower garlands for their hair and enjoyed some lovely party food, including a wedding cake baked and decorated by Ann Watson. They had a really happy afternoon of fun and friendship.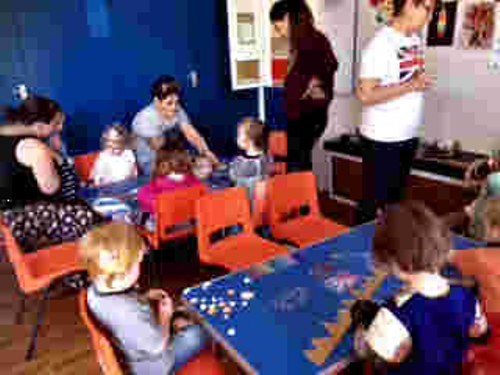 Waste Watchers Holiday Club - April 2018
Based on the Creation Story and the need to preserve God's planet, this year's Holiday Club attracted 36 youngsters on the theme of 'Waste Watchers'.
There were stories in a darkened room simulating the world before light, cartoon videos on reducing waste, songs, games, craftwork including making something out of waste and den building involving making houses out of discarded boxes. Each morning was rounded up with the children sharing jokes and this year, quite a few prayers. The children were a delight and responded well to questions on the Bible and how to reduce waste. A special service on the following Sunday attracted several of the youngsters together with their families. Woe betide any family that doesn't reduce, reuse or recycle its waste when these young waste watchers are around!
Good Friday Walk - March 2018
Nothing gets in the way of the Good Friday walk - not even the inclement March weather.
Keen to work off the effects of multiple Hot Cross Buns following the Good Friday Service the walkers pose at the start of the walk. This was the only photograph taken in the dry that day. The weather steadily deteriorated from here but what's a few icy raindrops when you have the warmth and fellowship of good company?
Thank you Fiona and Mark for organising this.
February 2018: CHAPS Pantomime - Pinocchio
Congratulations on another outstanding performance by CHAPS seen by around 400 people!
Pam's Farewell
Farewell Tea
Tiny Tots
On 19 October the Tiny Tots held a party to thank Pam for all the love and support that she has given to the group during her time at Castle Hill but it was a party tinged with sadness as we were saying goodbye! Ann Watson made a beautiful cake, which we shared along with other party food. We presented Pam with a voucher and a pair of little earrings called "Go Fly A Kite" (they are kite shaped!) which we thought just perfect from our group. Our craft activity was making kites and one of the children made one especially for Pam to remember us by.
Harvest Weekend: Harvest Festival and Scarecrow and Flower Festival With Art exhibition - 30 September and 1 October 2017
Thank you to all the Church organisations and individuals who entered into the spirit of our Scarecrow, Flower and Art Festival by producing such professional displays. We have so much talent within our Church community!
60th Anniversary Celebrations - 15 to 18 June 2017
Over the weekend of the 15 to 18 June, as part of our 60th Anniversary Celebrations we were privileged to host members of the Gospel Choir "Christcendo" from our twinned Church in Mussbach. After arriving in the UK on the Thursday they visited Windsor before meeting their hosts in the evening. Friday was spent in Cambridge finishing with a visit to King's College for Evensong. Saturday was spent with the hosts and they then joined us for Strawberry Tea in the afternoon. There then followed a wonderful and inspiring Concert of their music. Sunday the Choir joined us for morning worship and after a lunch at the Church they returned to Germany. Many thanks to all the hosts, Mussbach Committee and helpers in the kitchen for making this all possible.
60th Anniversary Celebrations - 7 May 2017
On Sunday 7 May we had a happy day of thanksgiving for Life and Worship for 60 years at the Church. Thank you to everyone who took part in any way; the lovely service led by Pam with input by Arnd and sermon by Richard Mortimer, the food, the memorabilia and the quizzes (some of the baby photos wouldn't be recognised by their own mothers!). Pam spoke about all being members of one body, and it certainly felt like that.
Castle Hill 60th Anniversary Celebrations: Reunion of 20th Ipswich Boys' Brigade - 1 April 2017
Over 75 people gathered to chat, look at various forms of memorabilia, eat and generally enjoy seeing so many 'lads' from the past.
As one old boy wrote after the event:
Thank you for your efforts and thorough planning yesterday. I thought that the event and the different ways to interact (quiz, photos, memorabilia, rogues gallery) were brilliant and memories really flooded back.
However, those things alone weren't it alone: it was the spirit of the BB which I felt underpinned it all - "Sure and Steadfast" - the teachings from scripture (hope, forgiveness, peace, kindness, self-control, respect) which tend towards Christian manliness, and the challenge to all to follow Christ's example.