Events
Tiny Tots Celebrate the Royal Wedding
Tiny Tots celebrated the Royal Wedding by holding a very special wedding party. The children were invited to come as princes and princesses, they made gold crowns or flower garlands for their hair and enjoyed some lovely party food, including a wedding cake baked and decorated by Ann Watson. They had a really happy afternoon of fun and friendship.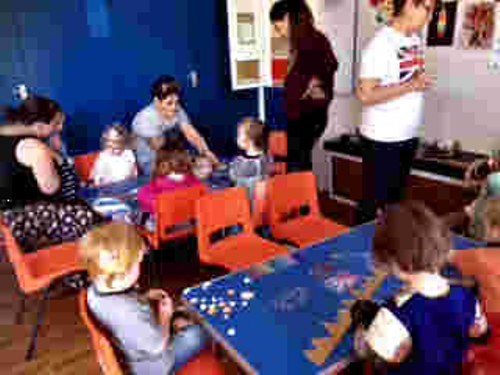 Waste Watchers Holiday Club - April 2018
Based on the Creation Story and the need to preserve God's planet, this year's Holiday Club attracted 36 youngsters on the theme of 'Waste Watchers'.
There were stories in a darkened room simulating the world before light, cartoon videos on reducing waste, songs, games, craftwork including making something out of waste and den building involving making houses out of discarded boxes. Each morning was rounded up with the children sharing jokes and this year, quite a few prayers. The children were a delight and responded well to questions on the Bible and how to reduce waste. A special service on the following Sunday attracted several of the youngsters together with their families. Woe betide any family that doesn't reduce, reuse or recycle its waste when these young waste watchers are around!
Good Friday Walk - March 2018
Nothing gets in the way of the Good Friday walk - not even the inclement March weather.
Keen to work off the effects of multiple Hot Cross Buns following the Good Friday Service the walkers pose at the start of the walk. This was the only photograph taken in the dry that day. The weather steadily deteriorated from here but what's a few icy raindrops when you have the warmth and fellowship of good company?
Thank you Fiona and Mark for organising this.
February 2018: CHAPS Pantomime - Pinocchio
Congratulations on another outstanding performance by CHAPS seen by around 400 people!
Christmas 2017
| | | |
| --- | --- | --- |
| | | |
| Candle-Lit Service | Festival and Crib Services | Lunch Club Christmas Meal |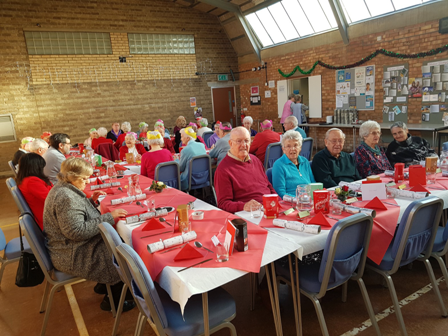 Tiny Tots' Christmas Party
Pam's Farewell
Farewell Tea
Tiny Tots
On 19 October the Tiny Tots held a party to thank Pam for all the love and support that she has given to the group during her time at Castle Hill but it was a party tinged with sadness as we were saying goodbye! Ann Watson made a beautiful cake, which we shared along with other party food. We presented Pam with a voucher and a pair of little earrings called "Go Fly A Kite" (they are kite shaped!) which we thought just perfect from our group. Our craft activity was making kites and one of the children made one especially for Pam to remember us by.
Harvest Weekend: Harvest Festival and Scarecrow and Flower Festival With Art exhibition - 30 September and 1 October 2017
Thank you to all the Church organisations and individuals who entered into the spirit of our Scarecrow, Flower and Art Festival by producing such professional displays. We have so much talent within our Church community!
Oddfellows Brass Band Concert
Playing to a capacity audience the award-winning Oddfellows Brass Band travelled down from Leicester on Saturday 23 September to give an outstanding performance in aid of our Church's Roof Appeal, Our Church's acoustics were ideally suited to this type of music that filled the building with sound the like of which has never been experienced in the whole of our 60-year history. The proficiency of the players was complemented by an infectious display of camaraderie and fun with much adlibbing that had the audience cheering. To the band and all who put so much work in to make the afternoon such a success we give our sincere thanks.
At Morning Worship on 22 October, Wendy Atkins presented our Church with a cheque for £600 raised from the concert.
Girls' Brigade Camp 2017
"Camp was amazing!! I loved every bit, all the toast at breakfast and going back for 3rds most meal times!! Pleasurewood Hills was great, I went on all the big rides, the Jolly Roger was my favourite! I loved the bat hunting, the dark challenge and singing all the songs at the camp fire! I'm glad that Emily and Carl came so we could do abseiling, I loved it!! Can't wait until next year!!"
ISLA
"I had such a wonderful time on my first Girls' Brigade camp. Was a little nervous at first as wasn't sure what to expect, but all of the ladies (and Carl) were so so welcoming and friendly, the girls are very lucky to have such an amazing bunch of leaders! Every single second was filled with so many exciting activities and each girl got stuck in and gave it a go. It was so laid back and it was fantastic to watch all the girls making memories they will keep forever. Thank you again for having me, looking forward to the next one!"
KIRSTY
SUMMER 2017 in Pictures
Mussbach Trip
Holiday at Home
Mussbach Visit
Sunday Club Outing
Charities Barbecue
60th Anniversary Celebrations - 15 to 18 June 2017
Over the weekend of the 15 to 18 June, as part of our 60th Anniversary Celebrations we were privileged to host members of the Gospel Choir "Christcendo" from our twinned Church in Mussbach. After arriving in the UK on the Thursday they visited Windsor before meeting their hosts in the evening. Friday was spent in Cambridge finishing with a visit to King's College for Evensong. Saturday was spent with the hosts and they then joined us for Strawberry Tea in the afternoon. There then followed a wonderful and inspiring Concert of their music. Sunday the Choir joined us for morning worship and after a lunch at the Church they returned to Germany. Many thanks to all the hosts, Mussbach Committee and helpers in the kitchen for making this all possible.
60th Anniversary Celebrations - 7 May 2017
On Sunday 7 May we had a happy day of thanksgiving for Life and Worship for 60 years at the Church. Thank you to everyone who took part in any way; the lovely service led by Pam with input by Arnd and sermon by Richard Mortimer, the food, the memorabilia and the quizzes (some of the baby photos wouldn't be recognised by their own mothers!). Pam spoke about all being members of one body, and it certainly felt like that.
Castle Hill 60th Anniversary Celebrations: Reunion of 20th Ipswich Boys' Brigade - 1 April 2017
Over 75 people gathered to chat, look at various forms of memorabilia, eat and generally enjoy seeing so many 'lads' from the past.
As one old boy wrote after the event:
Thank you for your efforts and thorough planning yesterday. I thought that the event and the different ways to interact (quiz, photos, memorabilia, rogues gallery) were brilliant and memories really flooded back.
However, those things alone weren't it alone: it was the spirit of the BB which I felt underpinned it all - "Sure and Steadfast" - the teachings from scripture (hope, forgiveness, peace, kindness, self-control, respect) which tend towards Christian manliness, and the challenge to all to follow Christ's example.
Swim 60 - Anniversary Swimathon
When the Outreach Group decided to organise a Swimathon for the Church members we were unaware of how much the hire charge for the swimming pool had increased since a previous event three years ago. At the time we thought it unlikely that sponsorship money raised would even cover the £250 cost let alone provide a surplus to fund our Holiday at Home this year. Nevertheless we went forward in faith and decided to take the risk.
How wrong we were! The generosity of our Church Fellowship in particular and of the friends and families of the swimmers means that sponsorship pledges and two very generous donations have exceeded £1500!
We thank God that in the year of our Church's 60th Anniversary we can go forward in confidence to plan not only this year's Holiday at home for the elderly but also to have a surplus to help fund next year's event also.
To the swimmers, you were magnificent! You swam over 1,400 lengths that's equivalent to 20 miles. A complete cross section of our fellowship was represented in the swim, including families from Stay 'n Play, our Girls' Brigade, and a good turn out from the over 50s. Not every one swam the sixty lengths . That fact alone illustrates that, regardless of ability, they had a go and did their best for this important community service. Particular thanks to our Girls' Brigade . It galls me to admit it but they far outswam the over 50's in spite of one of the seniors 120 lengths. It was also encouraging to see so many young people, who took part in the swim and attended church the following morning for Worship and 'Bangers and Mash'.
On behalf of all those who will benefit from Holiday at Home we wish to thank everyone who swam, sponsored either the team or an individual swimmer (sometimes both!) and the anonymous donors who, being aware of our concern over the cost of the pool hire covered the cost before we even entered the water. Thanks also to the Supervisor and Life Guard at Fore Street Pool who went out of their way to help us and to provide a safe and relaxed atmosphere for the event.