History
In 1954 the Ipswich Congregational Council, represented by the Revd J M Vick of the then Crown Street Congregational Church, instructed architects to proceed with the Castle Hill Church building project. This followed the drive and dedication of Free Church people in the town and the willingness of the Borough Council to allocate a site for a church on each of the town's large housing estates. The foundation stone was laid on 8 October 1955 at a special ceremony on a drizzly Saturday afternoon, signalling the official start of construction.
On 6 October 1956 the church, which cost £16,181 11s 2d to build, was officially opened. Located on the edge of the newly extended Whitton housing estate the church looked mainly over a landscape of fields, ponds, crops, trees and rough playing areas. The location of the church is testament to the foresight of its planners because today it is strategically placed opposite a primary school and at the centre of a large, mixed housing development. In 1976 a new extension was added at a cost of £26,210.09 and was further extended in 2007 as a 50th Anniversary project. The extension is used by both the church and the local community and houses a Sports Hall, Common Room and modern kitchen.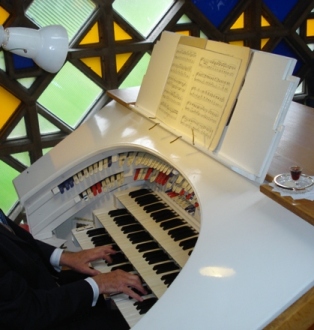 The church's unique "tent-like" design and concrete construction led to it being classified as a Grade 2 listed building in 1998. But the design of the building is not its only unique feature. The church houses a rare 1930s cinema organ. This arrived in 1969 following an agreement between the church members and the Ipswich Light Organ Society to install the three-manual "Christie" concert organ within the church. Manufactured in 1935, the organ had been removed from a cinema in Clacton. This has led to a very close partnership between the church and the society. Now the rich tones of this superb instrument enhance both worship and the regular oncerts held by the society.
In 1985, the church entered into twinship with a church in Mussbach, Germany. This has developed into a close association with both formal and informal exchange visits taking place each year.
The Ministers
Miss Evelyn M Allford: 6 October 1956 until end of 1959
Trained as a "Home Missionary", Evelyn left to begin married life in the Merseyside area. She returned to take part in Castle Hill's 50th Anniversary celebrations in May 2007.
Revd Don Reekie: 17 September 1960 until 3 January 1965
Don and his family left to prepare for Missionary work in Niuè, South Pacific.
Revd Brian T Sturtridge: 16 July 1966 until 1969
Brian left to take charge of two churches in rural Cambridgeshire and has now retired.
Revd Frances Chambers: 30 January 1971 until 1986
Frances retired to Worcester and kept in regular contact with our church until her death in February 2003.
Revd Richard J Mortimer: 4 April 1987 to 1995
Richard left to become part-time Minister to Wroxham URC in Norfolk, assisting the Moderator of Eastern Province in pastoral work within Norfolk district. He was appointed Deputy General Secretary of the United Reformed Church early in 2009.
Revd Cecil E White: 29 June 1996 to 1 June 2008
Cecil left to take up a chaplaincy at Leeds University. He still keeps in regular contact with our church. Cecil's wife, Revd Samantha (Sam) White was called to the Ministry while worshipping at Castle Hill URC. Sam now serves a group of churches in the Bury St. Edmunds area of Suffolk.
Revd Pam Smith: July 2009 to October 2017
Pam retired to Leicester.
Revd David Rees: September 2018